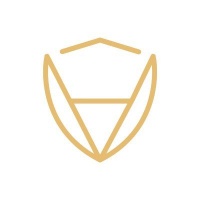 CertiK Shentu Incentivized Testnet

The CertiK Chain is a public blockchain platform that provides better safeguards against hacks so you spend less time building security measures and more time building possibilities.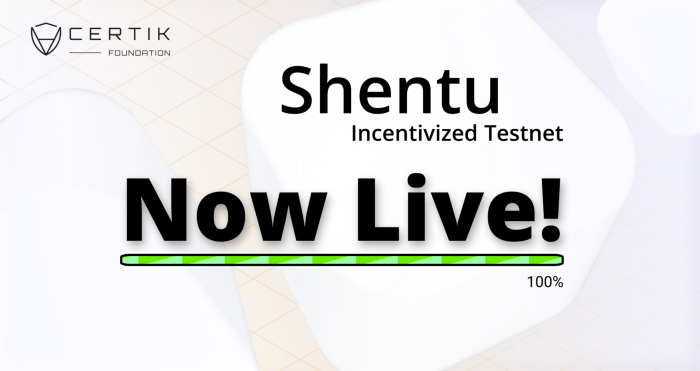 BOUNTY CAMPAIGN
CertiK Chain Incentivized Testnet
Activity type:
/&nbsp
Nodes
/&nbsp
Bug Bounty
/&nbsp
Development
/&nbsp
Staking
Reward pool:
Not set
&nbsp
(1,000,000 CTK)
How to participate:
Join the Shentu Games: 1M CTK Security Stimulus
Starting today, you'll also be able to participate in a series of challenges on the Shentu Incentivized Testnet in order to put the chain's core functionality to the test and provide valuable insights on community activity & participation, all the while collecting points based on your participation levels and impact.
How to Earn CTK
1. rior to joining the The Shentu Games, you will need to be verified as a valid participant with an active DeepWallet account.
2. Sign up for verification form.
3. For updates and new information on The Shentu Games, make sure you are subscribed to our mailing list, following us on Twitter, and a member of the CertiK Foundation group on Telegram.
About Project, Rewards and Rules:
The points earned during this incentivized testnet phase will be redeemable for CTK once mainnet launches (conversion ratio to be announced at a later date).
CertiK Foundation aims to allocate up to 1 million CTK to the Shentu Incentivized Testnet to encourage network participation, reward users based on their participation, and promote collaboration of different actors in the ecosystem.
With the incentivized testnet, the community will provide opportunities to:
Stress-test the overall stability of the network to optimize performance;
Identify vulnerabilities and attack vectors;
Illustrate security best practices (e.g., in development, infrastructure);
Ensure each network participant's incentives are well-aligned with their objectives;
Test protocol-level features and upgrades (particularly governance and delegation);
Establish communication/coordination channels and build relationships with node operators and network participants; and
Encourage community contribution.
Hardware Requirements:
The hardware requirement is pretty light right now. Anything with a decent CPU and 2GB RAM or more would do. As for the size of the chain, we anticipate it's going to be rather small for Shentu. HDD 10-25 GB.
About
Evolution of CertiK Chain Use Cases
The CertiK Chain began as a security-first blockchain built with cutting-edge technology and tooling for the community to use as they check for the correctness and security of active smart contracts. CTK tokens are used as a means of payment in order to execute these checks, fed into a proof engine to get the system started.
This use case opens the door for the CertiK Chain to be the bedrock of the most secure blockchain ecosystem, allowing mission-critical smart contracts — including those revolutionizing DeFi, identity, and IoT — to run securely, precisely, and correctly.. While the CertiK Chain infrastructure raises the standard of security within the CertiK blockchain ecosystem, our vision has always been to "Secure the Crypto World," not just CertiK's Crypto World.
To achieve that vision, we're excited to share the evolution of CertiK Chain use cases, one aimed at growing outward, providing security across all protocols; and another aimed at growing inward, providing security throughout more stages of the blockchain user journey, including if hacks or code malfunctions occur:
CertiK Decentralized Security Oracles, providing mission-critical projects with security safeguards regardless of the network they're published on
CertiKShield, which provides users with a reimbursement mechanism of lost assets due to hacks or code malfunctions
Securing the Crypto World
Because CertiK Chain is built with security in every layer, it's inherently well-suited for critical dapps like DeFi that are built on-chain. However, true to our vision, we believe there's more that can be done to provide ALL smart contracts with better security and safeguards, regardless of the network it's published on. Instead of relying on a few centralized agencies, CertiK Chain will be used to host many security vendors and service providers in a truly decentralized way and form a security oracle for CertK Chain and other blockchains.
By using CertiK Chain as a de facto security oracle, developers and end users alike will be able to leverage the chain's security features to not only check their smart contracts, but also to check other smart contracts for evidence of security and verification prior to calling its functions. This is particularly groundbreaking for security in DeFi, because by integrating smart contracts with the decentralized security system on CertiK Chain, transactions undergo a series of security checks before transactions are completed, thereby greatly reducing the chances of being hacked or exploited.
Links:

COMMENTS