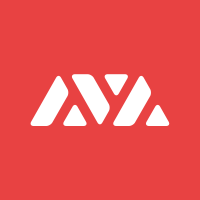 Avalanche (AVAX)

Inspired by gossip algorithms, this new family gains its safety through a deliberately metastable mechanism. Specifically, the system operates by repeatedly sampling the network at random, and steering the correct nodes towards the same outcome.

RATE*
VERY HIGH
NONE

TOKEN SALE
TOTAL
$56,090,000
/ $56,090,000

TOKEN SALE DETAILS
TOKEN SALE INFO
First Round price:
1 AVAX = 0.50 USD (1 year vesting)
Second Round price:
1 AVAX = 0.50 USD (1.5 year vesting)
Token Sale price:
1 AVAX = 0.85 USD (no lock up)
Total Tokens:
720,000,000 AVAX
Available for Token Sale:
10% (62,000,000 AVAX)
Initial Circulating Supply:
3.23% (23,234,000 AVAX)
Bounty Program:
JOIN BOUNTY
AVA Hub (Node, Bug Report, Content Writting, Testing, Graphic Designs, Campaign Ideas)
Token Sale Format:
Random Queue
PRIVATE SALE INFO
Private sale price:
1 AVAX = 0.50 USD
Sold on Private sale:
$12,450,000
Private Sale Allocation:
3.46% (24,900,000 AVAX)
Private Sale Vesting Period:
Lock up
SEED INFO
Seed sale price:
1 AVAX = 0.33 USD
Sold on Seed sale:
$5,940,000
Seed Sale Allocation:
2.5% (18,000,000 AVAX)
Seed Sale Vesting Period:
Lock up
BOUNTY CAMPAIGN
AVA Incentivized Testnet
Activity type:
/&nbsp
Nodes
/&nbsp
Contest
Dates:
01 Jun 2020
-&nbsp
15 Jun 2020
Reward pool:
~$1,000,000
&nbsp
(2,000,000 AVA)
Personal reward:
~$1000
&nbsp
(500-2000 AVA)
How to participate:
About Project, Rewards and Rules:
The Denali testnet will build off Avalanche's successful first testnet, Cascade, which launched in April and saw nearly 300 developers setup and run validator nodes. It is designed to build, educate, and reward the first community of Avalanche validators who will help prepare the entire network for a healthy, decentralized, and widely distributed mainnet launch this summer. 
Avalanche is an open-source platform for launching decentralized finance applications and enterprise blockchain deployments in one interoperable, highly scalable ecosystem. 
Developers who build on Avalanche can easily create powerful, reliable, and secure applications and custom blockchain networks with complex rulesets or build on existing private or public subnets. Avalanche gives you complete control on both the network and application layers — helping you build anything you can imagine. 
Reaching speeds of thousands of transactions per second and payment finality of under two seconds, Avalanche provides comparable throughput to top payment processing companies. 
Testnet Challenge Details & Timeline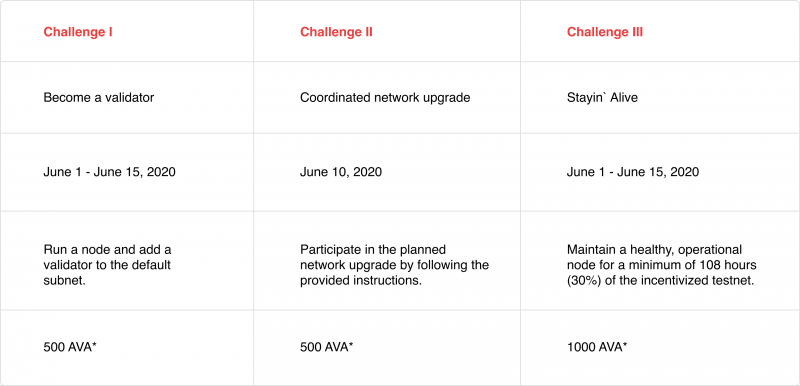 Hardware Requirements:
Avalanche is an incredibly lightweight protocol, so the minimum computer requirements are quite modest.
- Hardware: CPU > 2 GHz, RAM > 3 GB, Storage > 5 GB free space.
- OS: Ubuntu == 18.04 or Mac OS X >= Catalina. (Ubuntu versions other than 18.04 may work but have not been tested.)
- Software: 
Go
 >= 1.13
Run 
go version
. 
It should be 1.13 or above.
 Run 
echo $GOPATH
. 
It should not be empty.
Links:

SHORT REVIEW
Number of team members:
31
Token Information:
Utility

COMMENTS